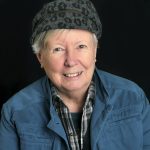 Detailed Description
Judy Grahn is internationally known as a poet, writer, and cultural theorist.
Her writings helped fuel, globally, second wave feminist, gay, and lesbian activism, as well as women's and queer spirituality.  She has received two American Book Awards, two Lambda literature awards, a Foremothers of Women's Spirituality Award, and a Lifetime Achievement Award from Triangle Publishers, who also established the Judy Grahn Nonfiction Award in 1996. In 2014 she was Lifetime Achievement Grand Marshal of the San Francisco Gay Pride Parade.
Grahn has published thirteen books with several more in process; publications include two book length poems, several poetry collections, The Judy Grahn Reader from Aunt Lute Press, an ecotopian novel, and five non-fiction books. Among them are Another Mother Tongue: Gay Words, Gay Worlds; Blood, Bread, and Roses: How Menstruation Created the World; and her memoir, A Simple Revolution: the Making of an Activist Poet. A collection of nine-part poems, Hanging On Our Own Bones, is her latest, from Red Hen Press.
She lives in California with her wife.