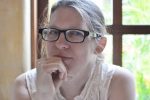 Detailed Description
Katrina Rahn is a librarian, consultant, and artist. In her role as librarian at City College of San Francisco, she finds inspiration every day by helping students make the change they want to see in the world. As a consultant, she uses design thinking, effective problem solving, and collaboration to help libraries and other organizations increase their value and capacity, and inspire strategic support and growth.
Katrina earned her undergraduate degree in Creative Studies, with an emphasis in art, at UC Santa Barbara and holds a Master's Degree in Library and Information Science from UCLA.
She currently serves as a member of OHI's Board of Directors and Editor of OHI's Four Winds Journal.