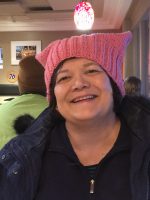 Detailed Description
Karen Buller is a registered member of the Comanche Nation and a longtime resident of Santa Fe, New Mexico.
She has served as Native American consultant to many diplomatic missions both here in the US and abroad, as Founder and Executive Director of NITI, a Native American Tech company, as Secretary of national and local chapters of the ACLU, and currently serves as Chairperson of the Board of Directors for the Santa Fe Indian Center.
Karen is a standing member of OHI's  Advisory Board and past contributor to Four Winds Journal (Art as Activism, Fall 2017).
Detailed Description
SInjab is the pen name of Poet and Peacemaker Mark C. Johnson, Ph.D. Former director of The Fellowship of Reconciliation, and a career YMCA director. He now lives at Pilgrim Place in Claremont, California, an intentional community or irrepressible peacemakers.
He is married to Mary Bell Johnson and together they have five grandchildren to date.