YouthSpace Computer Technology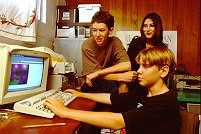 During 1999-2000, we sponsored initial training in computer programming and web page design at Warehouse 21 on Paseo de Peralta in Santa Fe.
YouthSpace Permaculture Gardening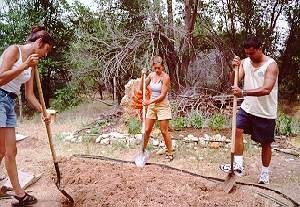 The Garden of Youth, a collaboration with Life Center for Youth and Adults, was begun on the grounds of the Life Center's facility on Agua Fria Street in Santa Fe during the summer of 1999. Coordinated by YouthSpace Garden Director Leif Hallberg, residents of the Santa Fe Youth Shelter, Americorps volunteers, and Life Center's teen staff members created a beautiful garden, with herb, vegetable and flower beds, a fish pond, a bridge across the arroyo, a nature walk, and an outdoor classroom.
Local businesses gave generously of their time and materials to help make this garden a reality. Among them were Plants of the Southwest, Paynes Nursery, Santa Fe Stone, Oasis Water Design, Wal-Mart, and Jackalope.
YouthSpace / 3-R School Project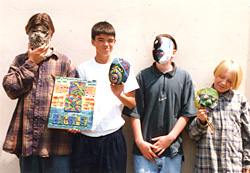 The needs of challenged young people, and our wish to help them, inspired the YouthSpace Project, which we designed and helped to manage – collaborating with Nevada County Community Network, Silver Springs High School, the 3-R School, and other organizations in Nevada City, CA during the spring, summer and fall of 1996. YouthSpace was an attempt to provide a forum and online meeting ground for homeless children and concerned adults in Nevada County.