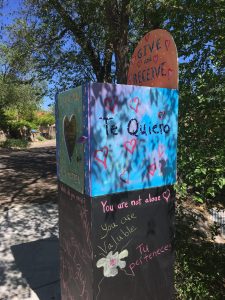 We hope you'll enjoy this issue of Four Winds Journal.   
The Pandemic Papers is a collection of people's personal feelings and their reactions to medical and governmental response (or lack thereof) to the novel corona virus since it emerged three months ago.  Not only has COVID-19 affected each of us on a personal level, conflicting and misleading information about the virus has inspired unprecedented levels of fear, anxiety, and anger among the population at large, catalyzing a chain reaction of volatile events here in America and around the world — not the least of which is the fierce national and global response to the recent brutal public murder of George Floyd, an African American citizen of Minneapolis, by a local police officer with a record of reprehensible behavior.
We believe what you discover here will amuse, calm, encourage, surprise, and possibly provoke you.  As we continue to move through these "interesting times" (remember the old Chinese curse), we expect more reactions, and we'll keep the presses running.  In fact, because there were so many excellent submissions, we are publishing a Supplement to The Pandemic Papers on our website and a link to this Supplement in the Journal itself (see Authors, Artists, & Editors | Side Trips | Resource Directory | More — p. 59).   There you will find more fascinating articles, artwork, and additional sources of information.
Please feel free to visit the new blog page under construction, created specifically for you to share your own thoughts and feelings—about COVID-19, how it's impacting people locally and globally, and what you think about this issue of Four Winds Journal in particular.  Meanwhile, as Adam Avin of Wuf Shanti likes to say,
"Think Well to Be Well!"
FWJ Summer 2020: The Pandemic Papers
The Pandemic Papers Supplement
Order your printed copy of the Journal at our Early Bird Sale price here: