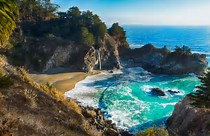 Four Winds Journal's Spring 2018 issue, Seven Generations and Counting: Exploring Sustainability (1) is here!
This issue of of the Journal explores some of the many aspects of sustainability.  We move beyond simplistic definitions and limited attempts at solutions to understand just what this word truly means, and in how many ways we can begin to restore right relationship with our planet.
Contributing writers and artists speak to the aspect most dear to their hearts—often from extensive personal experience.  Through their eyes, you will recognize that what we call sustainability is actually a state of dynamic balance—with branches that spread much further and roots that go much deeper than you may have previously considered.  You will appreciate learning that "family" can include the blue jay at your bird feeder, the old elm tree shading your back yard, the melody of water trickling over stones in the creek behind your house.  Finally, you will discover ways in which you can enjoy and contribute to the spiritual, mental, emotional, and physical well being that sustains an individual, a family, a community, and our planet itself.
Click here for your digital copy of this issue of Four Winds Journal, and enjoy!