Four Corners Media Project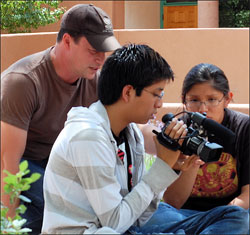 We completed Phase I of our two-phase Four Corners Media Project, based in Shiprock, New Mexico. This program, with a seed grant from the Institute of Transpersonal Psychology in Palo Alto, California, was intended to reconnect Navajo (Diné) adolescents with Navajo elders by teaching the teens filmmaking so that they could film their interviews with parents, grandparents, and Navajo teachers and healers.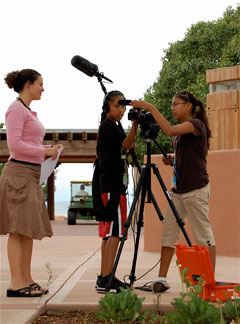 In addition to promoting intergenerational communication and reconnection, it was hoped that the Four Corners Media Project would help preserve the Navajo language and culture, and thus save for future generations the wisdom of the Diné Beauty Way.
View/Download Project Background and Details (PDF)
Spontaneous Shamanic Initiation
There has been considerable controversy in recent years about the validity of spontaneous shamanic initiation. Advocates insist that this is the most authentic method by which a shaman is "made." Detractors, on the other hand, believe that only through a process of many years of rigorous training with a practicing shaman can an acolyte become an adept. Rather than argue the validity of one method over another, this paper discusses the experience of one shamanic practitioner – myself – and correlates my experience, as well as those of various clients and students, to theories of spontaneous initiation prevalent within both historic indigenous societies and the contemporary shamanic community.
Coming Home to Gaia – Earth as Nurturing Mother
The following PDF (Slideshow) is excerpted from Valentine McKay-Riddell's PhD dissertation, Coming Home to Gaia: Mentored Earth-based Rites of Passage for Adolescent Girls. Shown here are photos of some of the Girls' masks and final drawings, which they created with the help of their Mentors, and a brief profile of each Girl.