Here are links to more excellent submissions for which there was no room in this issue of Four Winds Journal.  Rather than wait until Fall to release this supplement, we decided to make it available immediately (online only for now)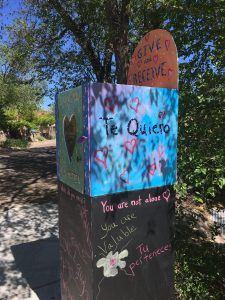 .  We think you'll enjoy these offerings, and we'll be adding more as we receive them.
The Coronation (Complete Essay) — Charles Eisenstein
The Sickness in our Food Supply — Michael Pollan
Adaptation or…?  —  VMcKay-Riddell, PhD
The Sun Will Never  Shine As It Does Today — Rob Hopkins
An Anarchist Quaker's Prayer to Soothe Anxiety —  Ayu Sutriasa for YES Magazine
Tina Louise Spalding – Channeling Jesus   (YouTube Video)
In concern for the most recent disturbing examples of entrenched racism – some of which may have been sparked by the fallout from COVID-19 but actually reflect a centuries-old systemic sickness in Western culture – we are sharing the following:
The Help   – for George Floyd  (Netflix Film)
We often feel afraid- perhaps now more than every before.  And we're all striving to put a brave face on our fears.  But sometimes it helps to just say it like it is:
Leak:  How I Feel – Anonymous
In the midst of a pandemic, while we argue about the value of masks, social distancing, staying home or venturing out, etc, it is easy to forget the health of the planet we all depend upon.  Charles Eisenstein reminds us to remember:
The Cure of the Earth – Charles Eisenstein
Paintings, photos, and more good reading to come!