Written and directed by Adam McKay (The Big Short)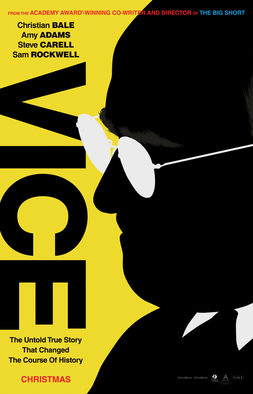 Christian Bale, as Dick Cheney
Amy Adams, as Lynn Cheney
Sam Rockwell, as George W. Bush
There's a great deal to be said about this film—both pro and con. Some critics call it "superficial, lacking insight, ingenuity, and intensity" (Roger Egbert, Dec. 24, 2018) while others praise it to the heavens. Indeed, the film received numerous awards and nominations, with eight nominations at the 91st Academy Awards, including a Best Picture nomination and a win for Best Make-Up and Hairstyling. It also had a leading six nominations at the 76th Golden Globe Awards (including a nomination for Best Motion Picture – Musical or Comedy), and six nominations at the 72nd British Academy Film Awards. For their performances, Bale, Adams, and Rockwell were nominated at all three shows, with Bale winning the Golden Globe Award for Best Actor – Motion Picture Musical or Comedy. (https://en.wikipedia.org/wiki/Vice_(2018_film)
But I'm not a film critic.  I'm a psychologist, and I saw it as a character study.  How this one man, an alcoholic ne'er-do-well, could rise from the gutter to a position of global power is, of itself, fascinating.  But Adam McKay's portrayal of Dick Cheney shows him as a fallible human being, with the capacity for both great love (in his care for wife Lynn and daughters Mary and Liz) and great evil (his thirst for absolute power at any cost).  This combination of tenderness towards family, contrasted with brutal efficiency in eliminating friends and foes alike—anyone who blocked his bid for power—is particularly riveting.
Interesting, too, is the skillful interweaving of the fly-fishing scenes into the story line—most notable as we watch how he "plays" young Bush, luring him into an invitation to serve as Bush's running mate in 2000 and then refusing, unless Bush will delegate "mundane" executive responsibilities, such as energy and foreign policy, to him. As Vice President, Cheney works with Secretary of Defense Rumsfeld, legal counsel David Addington, Mary Matalin, and the Chief of Staff, Scooter Libby, to exercise control of key foreign policy and defense decisions throughout Washington. Plagued by repetitive heart attacks (we wonder if these might not be the result of his heartless behavior) one "ending" shows Cheney enjoying his golden years in retirement with his family; then, as the credits role, the scene changes abruptly and the film continues.
Whether viewers agree on the merits of this film or not, the storyline is riveting, the casting inspired, and the acting superb. The message that we are all flawed human beings, some with the gift for compassion and caring and some without, and that each of us is able to see-saw between these roles at a moment's notice, stays with us long after the movie ends.
Reviewed by Valentine McKay-Riddell