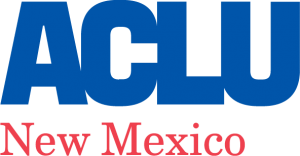 Happy New Year from the ACLU of New Mexico!
We're kicking off 2022 by taking a look at how U.S. Customs and Border Protection (CBP) – the largest, and by some accounts, one of the least scrutinized law enforcement agencies in the country – operates in our state.
CBP is part of the Department of Homeland Security, alongside but independent from U.S. Customs and Immigration Enforcement (ICE). Among their duties, CBP's 60,000 agents run the ports of entry (i.e. border crossings like the ones at Antelope Wells and Columbus here in New Mexico), as well as detaining migrants entering the country between ports of entry.
CBP also helps run some of Presidents Donald Trump and Joe Biden's most controversial programs, including the misleadingly-named Migrant Protection Protocols, sometimes called Remain in Mexico, as well as Title 42.
In New Mexico, CBP agents are most visible operating interior checkpoints on highways up to 100 miles north of the border, as well as doing roaming searches in our communities.
Those two efforts are the focus of our newsletter:
· New Mexico's legalized marijuana equity goals could be threatened by CBP's internal checkpoints. That's because legal cannabis producers in Southern New Mexico would have to pass a CBP checkpoint if they wanted to sell in the northern part of the state, risking detentions and seizures. One large New Mexico cannabis company, after dealing with traumatizing CBP seizures, decided to set up their newest facility just north of the checkpoints, keeping those jobs out of cities like Las Cruces. Read more on our website.
· Thirty-six people have died since 2020 after dangerous high-speed Border Patrol pursuits. The deadly trend was highlighted by The New York Times last weekend, with reporting based on a fact sheet created by the ACLU of New Mexico in collaboration with the ACLU of Texas. The NYT report also highlights shadowy CBP Critical Incident Teams, who come in after crashes and other fatal incidents to collect evidence and testimony, potentially violating the law and endangering any chance for a fair and independent investigation. Read our fact sheet on our website.
· CBP officers looking for immigrants without documentation are able to search vehicles and question people without a warrant within 100-miles of the border. Know your rights in the 100 mile border zone with a guide we created for you on our website.
· Border Patrol agents can also stop and question vehicles driving through interior checkpoints spread across southern New Mexico. We created a video so that you can know your rights when passing through a checkpoint. Watch now on our website.
Keep following us in this newsletter and on our social media accounts to see all our immigration reporting and advocacy work.
Sincerely,
Leonardo Castañeda
Pronouns: He, him, his
Investigative Reporter, ACLU of New Mexico
P.S. I want to hear from you – what are you curious about, what should I look into, and what do you want me to know?
Email me at  lcastaneda@aclu-nm.org  and tell me.