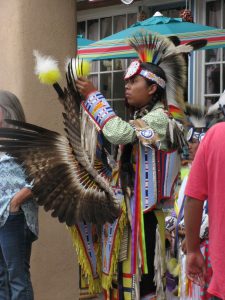 Santa Fe, capital city of the Land of Enchantment and OHI's home base, celebrates our rich cultural diversity in many ways.  Perhaps the most fascinating is Indian Market, which supports native North American and Canadian artists, performers, and filmmakers and attracts buyers from around the world.  This year's 95th Annual Indian Market, sponsored by Southwestern Association for Indian Arts (SWAIA), was particularly exciting.
Tourists and locals enjoyed gorgeous early fall weather this past weekend while meandering through a forest of booths  displaying truly gorgeous pieces of jewelry, weavings, sculptures, and pottery.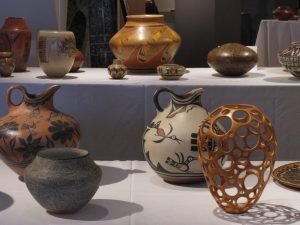 An increasingly popular event is the Native Cinema Showcase, featuring films by mature and upcoming native filmmakers, which really outdid itself this year.  Our favorites were Ma (Director Samoan, filmed in NZ), Rez Cars, First Contact (Directors Kiowa/Choctaw/Osage, in Mohiks with English subtitles), and Other (Directors Comanche, Pawnee/Shawnee).  Sundance trains and sponsors many of these young filmmakers, and their work is outstanding.
For Native Americans themselves, though, Indian Market seems not just a venue for displaying their skills and craftsmanship, but a cherished opportunity to gather with distant family members and friends, catch up on what's happened in the past year, and laugh at the antics of the little ones in each family.