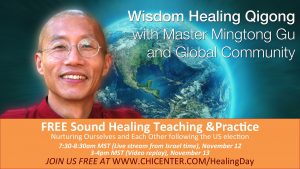 Dear One, 
Whether you live in the USA or another part of the world, however you voted (or would have), you are likely feeling the impact of the recent election day in America. I am currently teaching in Israel and have certainly felt the deep emotional impact, not only personally but also collectively. I am still processing these challenging emotions, including pain, anger and fear. At times, I have even found myself trying to detach and push these difficult feelings away, while also realizing that they are collective and a deep part of our human history. In fact, these challenges have been here on the planet and embedded in humanity for a long, long time.
This current, collective experience is not just about one person or party or this moment in history. It is about many things, including the opportunity we have right now for individuals and humanity to come together, learning and healing our longstanding discord and misunderstandings, together. And while many fear the potential misuse and misapplication of power, it is important to remember that none of us is either powerless or without choice. Anything we can do from a place of love will bring more healing, and anything we do from a place of fear will bring the opposite of peace. I will say that again –anything we can do from a place of love will bring more healing, and anything we do from a place of fear will bring the opposite of peace.
To continue to build the chi field of hope and empowerment and courage and blessing, I invite you to join us this weekend, so that together we can practice transforming fear into love, starting with ourselves and starting right now. Sound Healing and other Wisdom Healing Qigong practices help us process our deep emotions and bring more healing to ourselves, each other, America and the entire world, definitively impacting our shared future. Please join us this weekend on Saturday for the Chi Center live stream from Israel, as well as on Sunday for the beautiful Day of Healing and Reconciliation sponsored by the Shift Network.
All the details and links are below. We encourage you to gather with friends and participate in the live stream events together. Feel free to share this email with your entire online community.
Thank you, from my heart to yours. May these events and more bring greater healing to our world, here and beyond.
Wishing you Deep Peace and Healing, Haola
Master Mingtong Gu
This Weekend's Events:
Saturday, November 12th: 7:30-8:30 am MST (4:30-5:30 pm Israel Time)
Live Stream with Master Mingtong Gu: Sound Healing Practice from Israel
Sunday, November 13th: 1:00-3:00 pm MST
Day of Healing and Reconciliation, sponsored by Shift Network
Sunday, November 13th: 3:00-4:00 pm MST
Replay from Nov. 12th "Sound Healing Teaching &Practice"

Please see the email below from Stephen Dinan, of the Shift Network:
Mingtong, I am going to speak to just Americans in this email, although this is truly a global moment. So much of our country is reeling, coming to grips with the election results. I have wept myself multiple times. In the coming days, the emotional storms will likely be strong, the fears deep, and the tensions high. Our democracy is in a perilous moment. If you were a Hillary supporter, please let whatever emotions you need to feel to pass through as quickly as you can.  Because we need you now. If you were a Trump supporter, please be gracious.  We need to feel that you understand our pain and our fears. We need your heart and generosity now. We want to better understand you and your concerns as well. If you voted for another candidate or didn't vote, we need you now. It is time for all people of conscience to help with the profound, long-term work of healing our country, which is precariously close to rupturing. We have to heal collectively and find a way, somehow, to be united again. This country is going through titanic emotions  We have to help steady the ship, build bridges and hold our country together.  Let us spread love. The MOST important thing that I can see that can help us to do this is a massive Day of Healing and Reconciliation which we are producing for Sunday. Visit our website to see our current lineup of leaders that bridge left and right.  For this to have the maximum positive impact, we need to have tens of millions participating, taking actions, building community, being inspired by others. We need to scale up the professionalism and outreach of our broadcast event massively, and better organize the grassroots.  I intend to raise $100K today for outreach and major artists. We are working on landing Stevie Wonder and India Arie.   We have extended invitations to Laura Bush and Michelle Obama.  We have top Republicans and Democrats on board already.  Our 1.0 video has been seen by over 525,000 and is spreading rapidly. I am asking for your help in three ways: Spread the word: Shift Network Day of Healing.  Help sponsor the event by sending what you are able to Paypal at payments@theshiftnetwork.com to fund outreach and impact Help activate events in every town in the country.  We want as many as possible in places of worship and will add living room organizing by Friday (feel free to do so on your own before the functionality is up). We have top notch speakers ready to speak We'll be broadcasting from Unity of Washington DC on Facebook Live next Sunday, November 13, from 3-5 EST, 12-2 PST, followed by local programs. Mark your calendar and spread the word to every faith or spiritual leader you know to start a local event so we can really light up America and move forward. Finally, it is imperative to reach out and express love and solidarity with those who voted differently from you.  We simply must thaw the divides. Do what you need to do to work through your emotions and then we need you, in action, to help us ride out this storm and turn this into a transformational moment. Let us show what we are made of. Let us have a peaceful transfer of power and work together to create a brighter future. Love, Stephen PS – Please also share the video on Facebook, which already has 475,000 views:  Shift Network Day of Healing on Facebook . We hope you will join us. Haola.